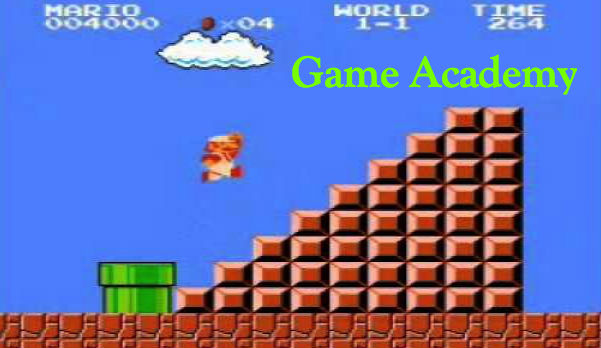 During the week of July 7th – 11th a group of current and incoming Digital Service Fellows and a few high schoolers participated in the Summer Game Academy at Harrisburg University (HU). Located in the Bourse building near Independence Hall, the five day camp ignited conversations about compelling gaming experiences, introduced participants to game design and engaged them in the process of being a part of a game development team. Time was limited, but by the end of the camp, the 17 campers broke into teams and produced modest, but functional games using the free software GameSalad.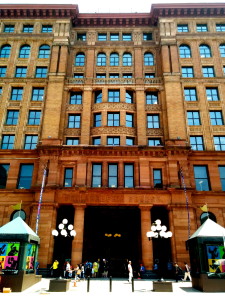 Jonathan Del Toro, or Johnny engaged the group well on the first day and had everyone play a foundational video game, Super Mario bros. Everyone immediately jumped at the opportunity to play the game and see who could complete the first level the fastest. Johnny then asked the group what they liked and disliked about the gameplay. Everyone offered their opinions and the topic of "dying" came up. Johnny posed to the group how the difficulty of gameplay affects the players experience. If the player dies often and the game is too hard, he/she won't want to play it, but if it's too easy the player will become bored and uninterested. Dying affects our self worth, Johnny concluded. Then, he proceeded to push the group to think about the various mechanics in the game: jumping, double jumping, running, throwing fireballs, collision, hitting mushrooms and growing, enemy path movement, death, time, point system and sound.
Gary Andrews, a current Digital Service Fellow said it was helpful to break down the components on Mario. He reflected, "Looking at a well known game that was innovative in its time was helpful for focusing on individual mechanics, and how they interact to make the game as a whole." This discussion and exercise of breaking a game down into its various parts provided a useful transition and introduction to GameSalad, the tool Harrisburg University uses to teach game design to beginners.
As it explains on their website, HU believes that it's fundamental to focus on teamwork, communication skills and problem solving instead of simply teaching how to use game design tools. HU says, "The skills that all game companies look for are the ability to work well in teams, clearly articulate ideas and decisions to one's peers, and drive a product from conception to completion."  Their model allows students the freedom to navigate this process, from designing and testing their games, working in a team and learning from their mistakes.
The participants then broke into groups based on interest in game genres and began discussing their visions for a game prototype. Over the next few days, the teams delegated roles, having one or two people work primarily as the programmers, one or two to be the artists of the group, one person to work on finding sounds and one person to be the producer to keep everyone on track and to test it.
The teams began to implement what Johnny taught them and continued to explore and learn on their own. The team who named their game "Whole Wide World", made up by Dylan, Gary, Gabby, Eric Toner, Michael, Peter, Amir and Derek started out with big expectations. They intended to create a game with multiple levels of different formats, puzzle and platform, but later had to tone down their initial vision.The story of their game is about a space traveler who got stranded on a planet and is stuck in an ancient space temple. He must traverse a number of dangerous challenges and solve puzzles to escape the far off planet. The game can be played below:
WASD to move, space to jump
Similarly, another group who called their project "The Survival Game" made up of Zahmir, Tyler, Felipe, Shevar, Eric "Sam" Bailey and Abdur, had to scale their initial vision back to complete a working prototype. They started out with a player vs player Hunger Games style concept, which transformed into a Contra-like platform shooter game, which required the player to defeat nasty creature enemies. Play their game here  — Play Shevar's level here.
Thomas Rivera, aka TJ and Tyree decided to take on the challenge of each being a one man team. TJ created a game called BouncyBlocks that involved some tricky programming. His concept was to have blue blocks continually spawning on screen and bouncing around. The player controls a blue paddle and can hit the blocks, but if the blocks hit a red wall at the top of the screen, then the blocks turn red. If the red blocks hit the players paddle the player loses. He included a button, R that turns the paddle red so the player can hit the red blocks, but if the player hits a blue block when the paddle is red, then the player also loses. The goal is to try to get as many red blocks as possible in this "particle converter". Play it here.
Tyree made a mortal combat style game, which challenged the player to fight a computer in a locked scene. Play it here.
On day 4, the teams were combining artwork with mechanics and animation and seeing their games come together. In the afternoon the team had a chance to go to the Philly Game Forge, a new co-working space in Old City that houses a number of indie game developers.
Jake talks to the group about programming Domino! that can be found on the app store and google play store
"It's great to get involved as a gamer now" Jake explained to the participants of the game academy. Jake is one of the leading programmers part of a five-man team that comprises Flyclops, an indie game design studio located here in Philadelphia. Jake and his colleague Joshua talked about their experience working in the gaming industry for a couple of years and had an opportunity to answer questions. They discussed how they have benefitted working in the Philly Game Forge alongside other indie game developers and the time is ripe to jump in and get involved.
Ash who presented earlier in the week to the group and is founder of the game development LLC TheGrimmBros explained that Philadelphia is one of the only major U.S. cities without a AAA game studio,which produces big budget high profile games. Some examples of studios are Epic games, Electronic Arts, Rockstar, Unisoft, Bungie, Blizzard, and games such as Halo series, Gears of War, BioShock, Grand Theft Auto series, Pokémon and many more. Ash discussed how the large studios act within a cut-throat competitive atmosphere, while smaller studios and indie game developers collaborate, share knowledge and have a much more collegial feel that promotes positivity, just as the Philly Game Forge intends to do in their space.
In addition to talking to Flyclops, the participants met other tenants in the Philly Game Forge including the founders of the space. Tim Ambrogi, co-founder of Final Form Games, showed them a beta version of Jamestown + and discussed the process he and his team have taken to developing their game, testing it and marketing it to publishers like Sony. Next they spoke to QuadraTron one programmer and one artist showed their game in progress, a platformer with an interesting twist, where every time you change direction it changes seasons (Spring to Winter) and the layout of the level. Finally we met the founders of the space, Cipher Prime and they reflected on how before them Philly didn't really have a collaborative space for small game developers, and that they were lonely. They wanted to develop a community and it has really grown in the last 5 to 10 years.
Also, they host a dev night every Thursday evening where people can come to play games, talk about them, collaborate with others to work on projects and hang out.
"It was a real eye opener," said Zahmir in reference to seeing the co-working space. The group saw parallels between what they had learned during the week and the work being done by Flyclops, Cipher Prime, TheGrimmBros, QuadtraTron and Final Form Games. Seeing the space gave the group a greater perspective on the game development process.
The last day of the academy the groups presented their work and demonstrated their games. Throughout the week, the students transformed from players to designers and learned about all the components and skills that go into game design. They have an analytical lens to view games critically from now on, an ability to break down the various mechanics and have a greater understanding of what went into its creation, all the way from conception to marketing and production. "Having started with nothing and ending with something is neat" remarked Dylan at the end of the academy. Zahmir said he was happy to show his friends and family what he created. He told them proudly, "I was a part of this."
From the Urban Technology Project: Thanks to everyone who made this amazing week possible.